The evolution of smartphones and smartphone apps have gifted us with a lot of useful utilities. Connecting with the whole world is made easy with a lot of social media platforms. Snapchat is one such platform to securely share your memories, pictures, reels and more. The best feature of Snapchat is to vanish your memories after a one-time visit. A lot of time we wish to recover deleted Snapchat photos. Here is how to recover deleted Snapchat photos on a computer or smartphone.
Are Snapchat Snaps Really Deleted?
Unlike Facebook Instagram, Twitter and other social media platforms, you can create and share short videos, messages, live video chat, Bitmoji avatar and more with Snapchat. Users believe that Snapchat snaps or videos are deleted just after it expires but it's not the case. Your snaps are hidden in the cache memory. They are deleted from your account however lives on the Snapchat server for 30 days. You can always Recover Deleted Snapchat Photos from the server with these amazing tricks.
How to Recover Deleted Snapchat Photos on Android
Android has a fixed cache memory for all the apps that are installed on a smartphone. You can look for all the files and extensions in the cache memory. If you can get access to the cache folder, you can find and relive your memories.
Step 1. Tap on My Files or access any of the File Manager apps on Android.
Step 2. Tap on the Android folder and then tap on the Data folder.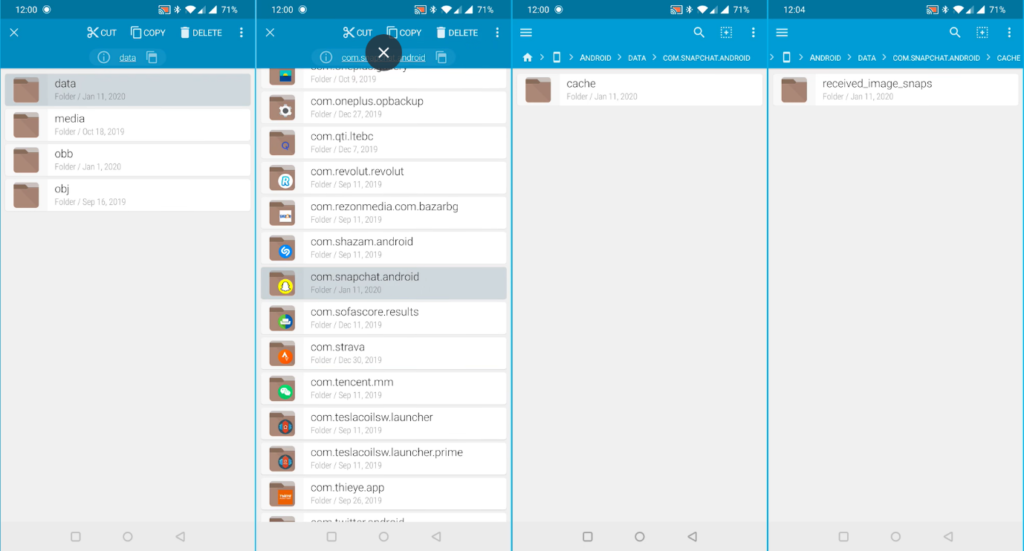 Step 3. Scroll down and look for the Snapchat app folders. Tap on com.Snapchat.android that has a small Snapchat logo on it.
Step 4. Tap on the Cache folder inside the com.Snapchat.android. Select the received_image_snap folder and you can explore all the photos that were shared with you. All the available photos will have .nomedia file extension.
Step 5. Select the snap you wish to recover, tap on the three dots on the top and select the Rename option. You can rename .nomedia extension to .jpg and the photo will be saved. You can now view the snaps!
How to Recover Snapchat Pictures Using Snapchat App
Snapchat has also evolved a lot in the past few years. You can always request for Snapchat data on the latest version of Snapchat. You can update the app before you request for data.
Step 1. Access the Snapchat app and tap on your profile icon.
Step 2. Tap on the small (Gear icon) to get into Settings on the top right.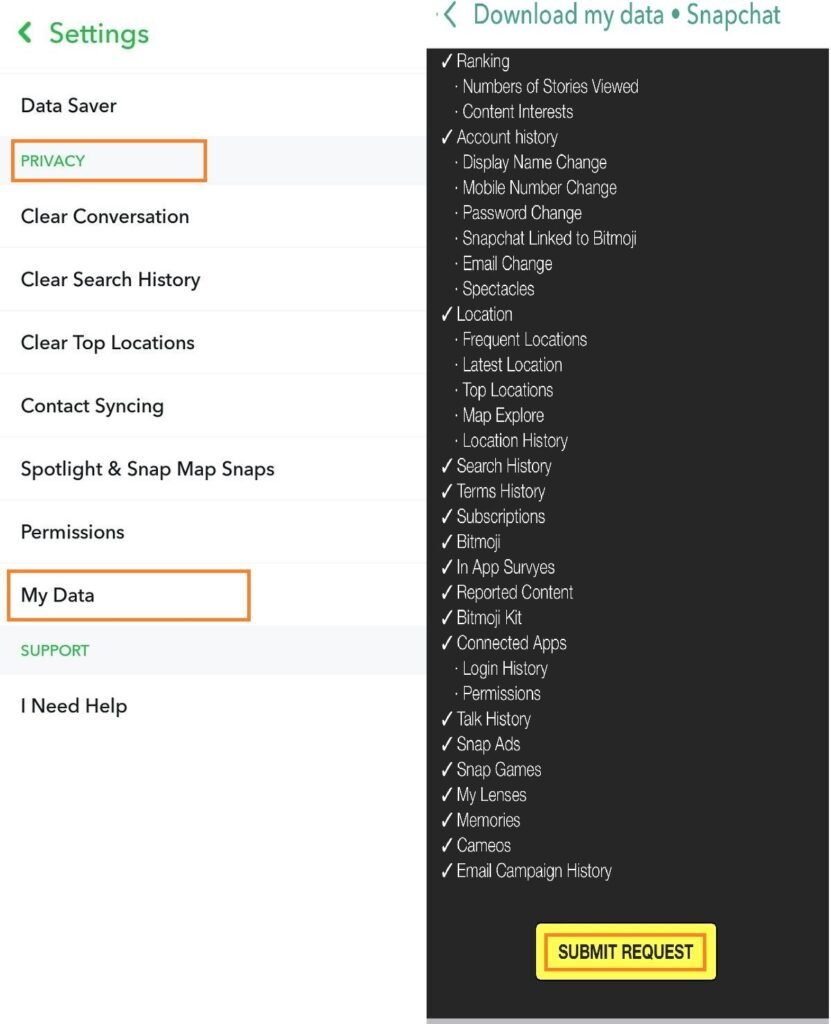 Step 3. Tap on the My Data option under the Privacy section.
Step 4. For security reasons, you will need to enter your login credentials to access your account.
Step 5. It will list out all the recoverable data from the app. Data with a small check can be easily recovered using this app.
Step 6. Tap on the Submit Request button to receive all the selected data as an attachment on your registered email. You can download the zip file and extract the folder and subfolders. This is how you can Recover Deleted Snapchat Photos and other data.
Recover Deleted Snapchat Photos on iOS
iPhone users have easy access to recover deleted Snapchat photos. The Photos App allows you to recover the deleted photos within 30 days of time.
Step 1. Access the Photos App on your iPhone.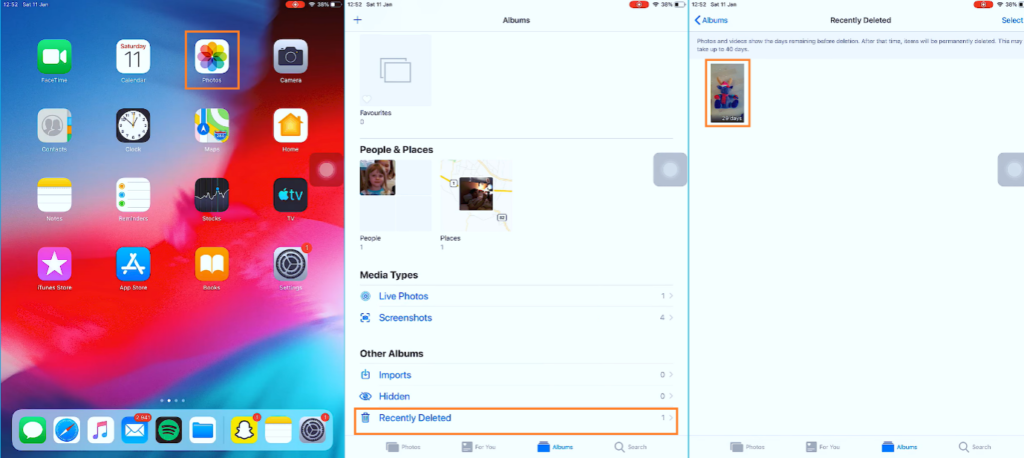 Step 2. Scroll down and tap on the Recently Deleted option under the Other Albums section. You will find all the recently deleted photos in this folder.
Step 3. Select the photos that you wish to recover and tap on the Recover button. You will find the recovered photos back in your Photos gallery.
Use a Photos Recovery App
The Best Photos Recovery app can help you recover all the deleted photos and other media on your Windows. it can accurately scan and list out all the recoverable media and can easily recover deleted Snapchat photos and videos.
Product – Photos Recovery
Version: 3.1.5.09
Compatibility: Android 5.0 & above
Released / Modified: 25 Jan 2021
Size: 7.6 MB
Price: Free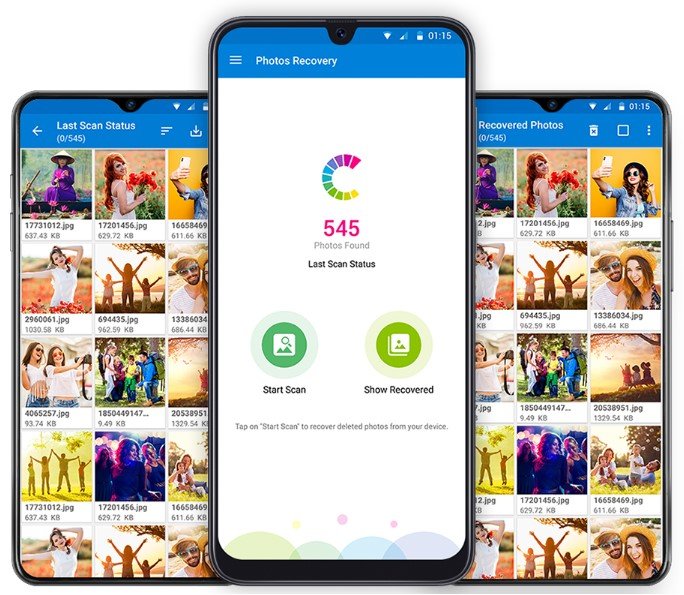 Photos Recovery app is one of the best solutions to recover deleted Snapchat photos. Photos Recovery app can find and recover deleted photos from internal and external storage on Android. It has an advanced algorithm to scan and list out all the recoverable images. You can preview and select what to recover for quick identification and utmost accuracy. You can filter out the recoverable media by size, date, and just recover deleted or lost photos. Photos Recovery app can also recover deleted Snapchat photos along with WhatsApp images.
Summing Up
This article on how to recover deleted Snapchat photos has got the manual methods to recover deleted Snapchat photos. you can recover deleted Snapchat photos using the app on Android or on iOS devices. You'll also explore the best photo recovery app for Android to automatically recover deleted photos. Never lose any of your precious memories with the Photos Recovery app.